Welcome to new cohort of medical staff across SMHS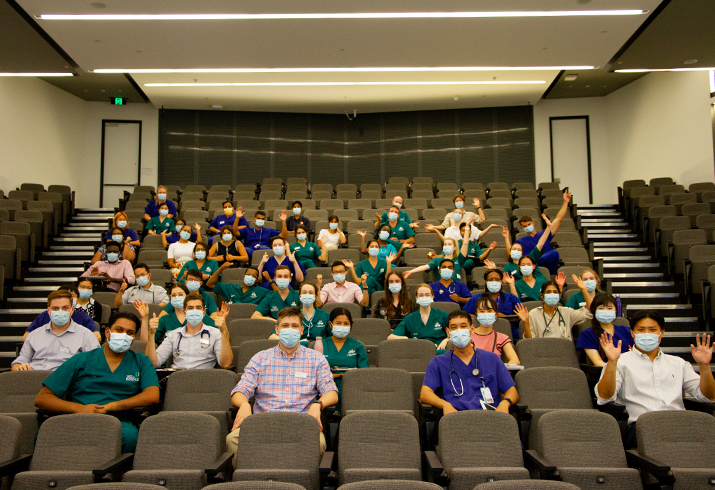 Pictured are just a handful of the new recruits, who will soon be putting their skills and expertise to good use across our health service.
2022 is off to a flying start with 133 junior doctors joining the South Metropolitan Health Service (SMHS) earlier this month.
Consisting of newly graduated medical interns, resident medical officers (RMOs) and more experienced registrars - junior doctors are an essential and highly valued part of our medical workforce.
RMO Nicolette Lyttle said she is excited to be working at Fiona Stanley Hospital again in the ICU after spending the past year working in Broome and Derby where her passion for Aboriginal health was ignited.
"I completed my internship and first RMO year at SMHS before heading up north, so I am excited to be back in a big hospital, managing complex medical conditions and working with a broad range of people," Nicolette said.
"I hope to learn new practical skills around managing acutely ill patients and develop a broader understanding of acute medicine. With my Basic Physician Training, I hope to learn new skills to give back to communities up north."
The new RMOs will strengthen their clinical skills by undertaking 5 rotations over a 12-month period (10-12 weeks per rotation) in different specialty areas at Fiona Stanley, Fremantle and Rockingham General hospitals including emergency, general medicine and the intensive care unit (ICU). Some of the new RMOs have made the move to Perth from the eastern states and Ireland.
Over a three-year period, 120 medical interns will complete their training at SMHS over a 12-month period, before becoming RMOs.
Jade Bevan said she is excited to be doing her internship at SMHS, having been placed in the Emergency Department at Rockingham General Hospital.
"I am looking forward to working with, and learning from, a brilliant group of doctors, nurses and allied health staff," Jade said.
"I hope to gain an understanding of the many and varied opportunities a career in medicine can provide and develop my skills as a junior doctor to the best of my ability."
Jodilee Tangarorang said she is grateful for the opportunity to do her internship at SMHS, focusing on mental health at Fremantle Hospital.
"I am looking forward to putting my years of study into practice and being part of the patient journey," Jodilee said.
"I look forward to meeting and working alongside different health care professionals and immersing myself in what SMHS has to offer."
As part of a medical internship at SMHS, over a 12-month placement, interns rotate each term into different specialities such as ear, nose and throat, emergency, orthopaedics and mental health. To complete their internship, they must meet the core term requirements to pass, working 8 weeks in Emergency, 10 weeks in a medical term, 10 weeks in a surgical term and 19 weeks in any non-core term.
Congratulations and a warm welcome to all of our new RMOs and interns across SMHS! We wish you all the best in your careers.
Keep up to date with our news and achievements