Health care snapshot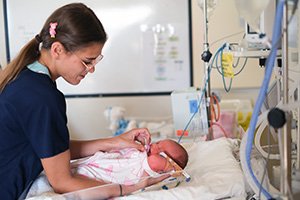 In 2019/20, SMHS staff provided the following care and treatment:
Our emergency departments treated in excess of 204,000 patients. More than 42,000 emergency patients were children aged between 0 and 15 years.
More than 155,000 people attended in excess of 614,000 outpatient appointments. In excess of 122,000 occasions of care were provided via telehealth or telephone.
The baby boom continued with more than 5,500 babies born during the year. 71 of these deliveries were multiple births.
Our surgical teams performed more than 37,000 elective and 14,700 emergency surgeries. Our intensive care teams treated more than 3,000 patients.
More than 162,000 people were discharged from our hospitals during the year.
Between March and June 2020 in excess of 24,000 people presented to a SMHS COVID clinic with 22 per cent aged between 30 to 39 years of age. Of those that presented more than 22,000 clinical assessments were performed and over 20,300 swab tests completed. Of those tested at a SMHS COVID clinic, 106 people tested positive to COVID-19. 26 COVID-19 positive patients received care within SMHS hospitals, with 9 patients admitted to a SMHS ICU.
149 patients had their lives changed by receiving a transplant:

9 heart transplants
13 lung transplants
36 kidney transplants
91 bone marrow transplants.
Find out more about the scope of our services in the 2019/20 SMHS Annual Report (PDF 8.5MB).
Note: Comparison cannot be made to the snapshot data reported in the SMHS Annual Report 2018/19. The methodology used continues to be refined and in some instances a different dataset was used to provide more precise statistics. 2019/20 data was impacted by COVID-19 planning and restrictions.