Health care snapshot
In 2021/22, SMHS staff provided the following care and treatment across our community: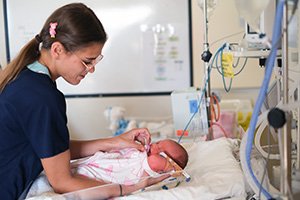 Our emergency departments treated 224,149 emergency presentations. Of these:

48,499 were children
20,907 was the highest number of patients seen in one month
393 patients were seen in just one day at Fiona Stanley Hospital (FSH).

5,496 babies were born during the year, including 66 multiple births. One on day 20 babies were born at FSH.
We treated 2,654 mental health inpatients.
Our surgical teams performed more than 57,701 surgeries.
843,703 outpatient appointments were delivered, including 283,079 via telehealth or telephone.
Our intensive care teams treated 2,858 admissions.
The lives of 145 patients were changed by receiving a transplant:

12 heart transplants
15 lung transplants
1 heart and lung transplant
43 kidney transplants
74 bone marrow transplants.

More than 84,000 COVID-19 swab tests were completed across SMHS sites, including 1,677 in one day.
68,693 outpatient clinical home visits were delivered
155,710 community mental health engagements
358,868 COVID-19 vaccinations were administered.
12,154 patients received care in home via 104,617 appointments.
Read our Annual Report to learn more about the scope of our services.