Participate in our research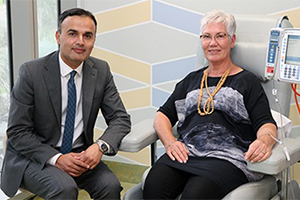 The participation of patients, carers, consumers and community members in a wide range of research activities is vital to all research conducted across SMHS.
See an outline of current research activity at SMHS.
You can participate in our research by:
being a clinical trial participant and helping us evaluate new drugs, therapies, devices, systems, methods and tests
reviewing research processes and documentation to ensure it is relevant to consumers
assisting the research team with tasks such as administration, data entry and conducting surveys
representing consumer interests and priorities as part of the research team.
Ethical and governance review of proposed research and monitoring of approved research for all SMHS sites is managed by the centralised Research Support and Development Unit (RSDU) based at Fiona Stanley Hospital.
If you are interested in participating in our research projects, please email the RSDU.
You may also wish to make a donation and invest in research linked to hospitals in south metropolitan Perth.
See clinical trial opportunities across SMHS
SMHS continues to be a leader in adopting digital solutions and promotes clinical trial opportunities via a dedicated app.
The ClinTrial Refer app is an Australian digital innovation that enables doctors and patients to independently search for actively recruiting clinical trials and to access trial site locations and contact details in real time.
The app provides information for each individual trial, including eligibility and contact details, and:
can be used to easily search for clinical trials that match a patient's health condition
ensures patients and clinicians can access readily current clinical trial information
allows clinicians and researchers to connect and collaborate.
ClinTrial Refer is free to download and to use for health care professionals, patients and carers.
To download, visit the Apple App store or Google Play, or scan the QR code below:

Compliments or complaints
If you wish to compliment one of our team members or researchers, or have a complaint about a research project you are involved, please either:
phone the RSDU on 6152 3214