Advocate for mental health services awarded top recognition from SMHS Board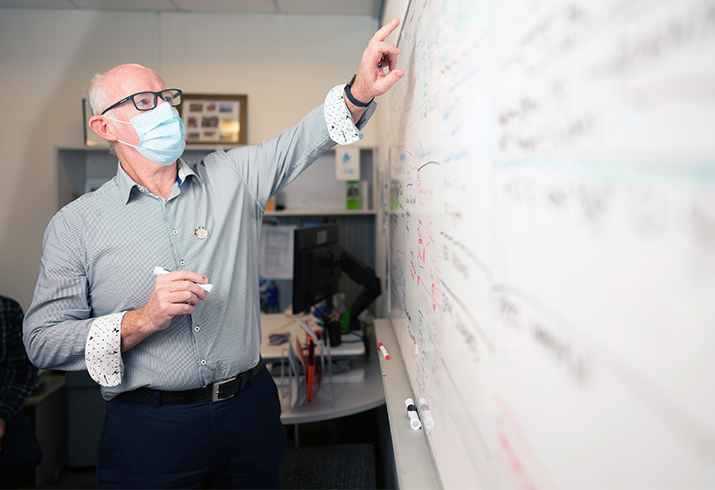 Rockingham Peel Group Mental Health Service Co-Director Anthony Collier has committed himself to supporting the community to access fair and equitable mental health care for nearly 40 years.
Anthony's many contributions to our community's mental health outcomes were recently recognised with the prestigious South Metropolitan Health Service (SMHS) Board Award.
Since beginning his career as a social worker in 1983, Anthony has led major care and service provision changes and improvement within the SMHS community, including by implementing Youth Reach South, helping establish all three Headspace sites, and developing the SMHS mental health strategic plan roadmap and the Youth Mental Health Model of Care Framework.
He is also a passionate advocate for improving staff wellbeing and addressing workforce shortages and has made strides to increasing recruitment opportunities for Aboriginal people.
Anthony has been recognised for his contribution to our community, as one of the winners presented with the 'South Metropolitan Health Service Board Award' category at the 2022 South Metropolitan Health Service (SMHS) Excellence Awards.
Anthony said he was overwhelmed and honoured to have been recognised by the SMHS Board for his, and his team's, ongoing efforts to advocate for the mental health services for the people of Rockingham.
"I am pleased to be able to be represent mental health and social work, and I am so proud to be recognised as a representative of our wonderful service and staff" Anthony said.
"It was also a true honour to share this award with Nola Naylor, who also won the same award on the night, as we both have a shared goal to close the healthcare gap and provide culturally secure healthcare to our Aboriginal community.
"With this incredible recognition comes responsibility to our community, and it is incredibly important to my team and I that we maintain this momentum and focus on our next steps to further advocate for those who have had difficult journeys in life.
"The mental health sector in Rockingham is, in my opinion, the absolute best place to work in the State – I am so lucky to be surrounded by an incredible cohort staff who passionately advocate for our beautiful community, who come from all walks of life."
SMHS Chief Executive Paul Forden said he is continually impressed by the high calibre projects, teams and individuals who are in the running at the SMHS Excellence Awards every year.
"We are privileged at SMHS to have a cohort of staff and volunteers who are so passionate and committed to further improving the patient outcomes for our community," Paul said.
"Congratulations and thank you to all the winners, finalists and nominees."
Read more about our finalists and winners.
Keep up to date with our news and achievements