Providing more opportunities to collaborate by putting it to the people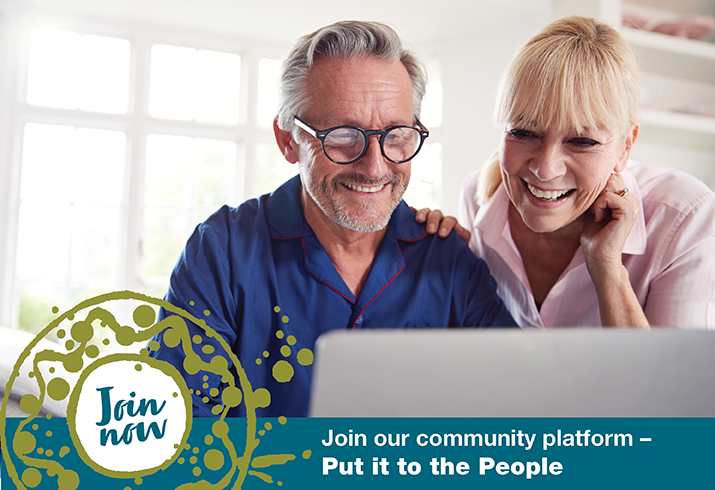 The South Metropolitan Health Service (SMHS) is inviting interested individuals to become part of an online community and provide feedback, comments and suggestions on a range of health care topics and activities, with the launch of a new engagement platform – Put it to the People (external site) .
Open to everyone in the SMHS community – including patients and families, carers, referring practitioners, not-for-profit and advocacy services, and staff – the platform is free and easy-to-use.
Community members can identify their areas of interest and choose their level of involvement, ranging from simply being informed about our work to participating in service redesign. This includes taking part in polls, forums, questionnaires and group chats.
To get started we are inviting community members to get involved by:
helping raise awareness of Aishwarya's Care Call via a quick poll
inviting carers to have their say via a questionnaire
working together to drop the jargon in a light-hearted activity
helping debunk common health or medical myths.
If this is of interest to you, or someone you know, you can find all the details about Put it to the People.
SMHS Executive Director Safety, Quality and Consumer Engagement, Dr Maxine Wardrop said how important it is for community members to share their thoughts and experiences.
"Building strong partnerships with our stakeholders is a strategic priority for SMHS, and initiatives like this help us to plan, evaluate and improve care across our hospital network and community-based services," she said.
"We are continually looking for ways to better understand the diverse needs of our community and Put it to the People will help us do just that, with the added benefits of community members being able to participate from the comfort of their own homes.
"Over the coming weeks and months, we'll be inviting our online community to get involved in a variety of ways, so I encourage anyone with an interest in health care to join up as a member and be the first in the know."
Keep up to date with our news and achievements